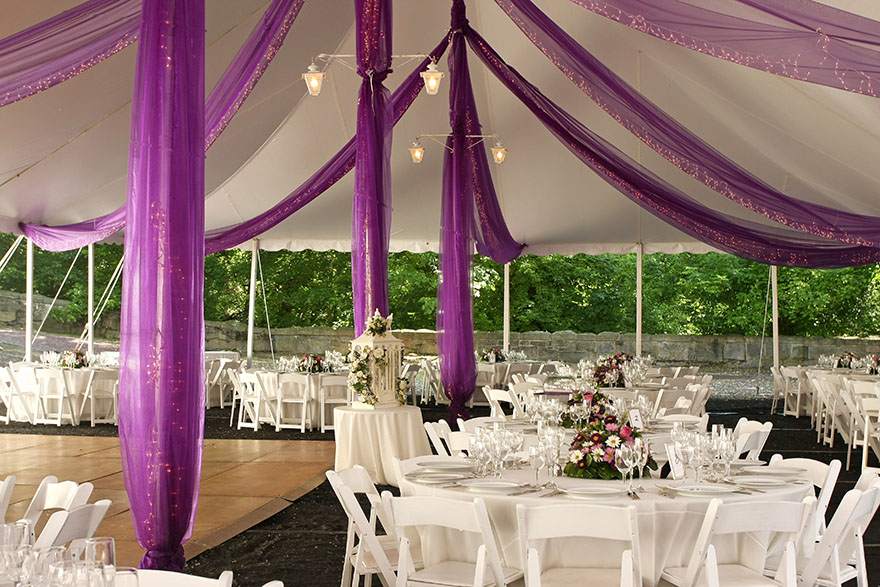 A wedding is an expensive event to plan and execute, so any way that you can save some money is a huge bonus whether it's hiring the right wedding tent rentals, saving on the décor, or anything else. Here are some things you can do to make your not-so-expensive wedding look luxurious.
Go For Metallic Décor
Metallic décor can add a world of difference to your wedding. Metals are great for giving any décor a more expensive and luxurious look. You can incorporate a bit of metal in your wedding décor like metallic banners, metallic railings, and supports. There is so much you can do with metal to add a bit of flair to your wedding.
You can even paint the metal bars and railings to make them look even more beautiful. You can go for colors like dark gold, rose gold, or even a shiny copper color but make sure that it's shiny so it doesn't make the metal look plain and matte.
Flowers Are Multifunctional
Who said flowers can't make a wedding look expensive m? Flowers are already an expensive thing to pay for in décor and you can use these flowers to make your wedding look, high class. If you're getting bouquets and centerpieces for the tables prepared, then you should ask for something simple and versatile, so that the bouquets can be rearranged into individual flowers and can be used for décor.
Flowers can be used anywhere and everywhere. You can prop them on the guest tables, and on the food table, they can be great photo props and you can even decorate the metal arrangements with flowers to give them a feminine look. 
The Right Lighting
You can make your wedding go from zero to a hundred with the right lighting. Lighting fixtures can double up as décor and will lead to stunning pictures in the end, so it's really a win-win situation, no matter how you look at it.
Try to go for fairy lights which are small and bright, they will act as a beautiful backdrop for your wedding pictures and the light will also illuminate things around you. The right lights and the shape of the lights will make all of the difference.
Less Is More
When thinking about wedding décor and how to make it look luxurious, the best thing to remember is that less is more. You don't want to overdo anything or else it will have the opposite effect of what you're trying to go for.
Try to go for minimal décor and have lots of space. This is going to make your wedding look less suffocating and more open and fun. This is a huge tip a lot of wedding planners go for and this is what makes even a simple and inexpensive wedding look over-the-top and beautiful. 
Table Décor
The next order of importance is the tables where the guests will be seated. To make your wedding tables look more expensive looking, go for name cards with beautiful cursive handwriting. Calligraphic cards don't cost a lot and they can add that extra bit of oomph you're looking for.
You can also get creative with the linens and tablecloths. Try to go for lighter colors with gold or copper detailing, depending on the rest of your décor. These colors will look extremely beautiful and luxurious against the crisp linen.
For the utensils, you can go for classic silverware or you can amplify the flair with gold or other colored utensils. Just make sure that the quality is good and it doesn't look very tacky.
Color Selection
Last but not least, you need to think carefully about the color choice. Try to go for lighter and neutral colors as they will make the wedding look more beautiful and luxurious.
Light colors like white, grays, and any other neutral color will make your wedding look like something out of a fairytale. If you play with the décor like a champ with the right color selection, you will nail everything in your wedding in the end.
Conclusion
There you have it! With these tips, you make your wedding look expensive. It all lies in the plan and the selection of wedding party rentals Rockland NY and vendors.
Categories: Entertainment