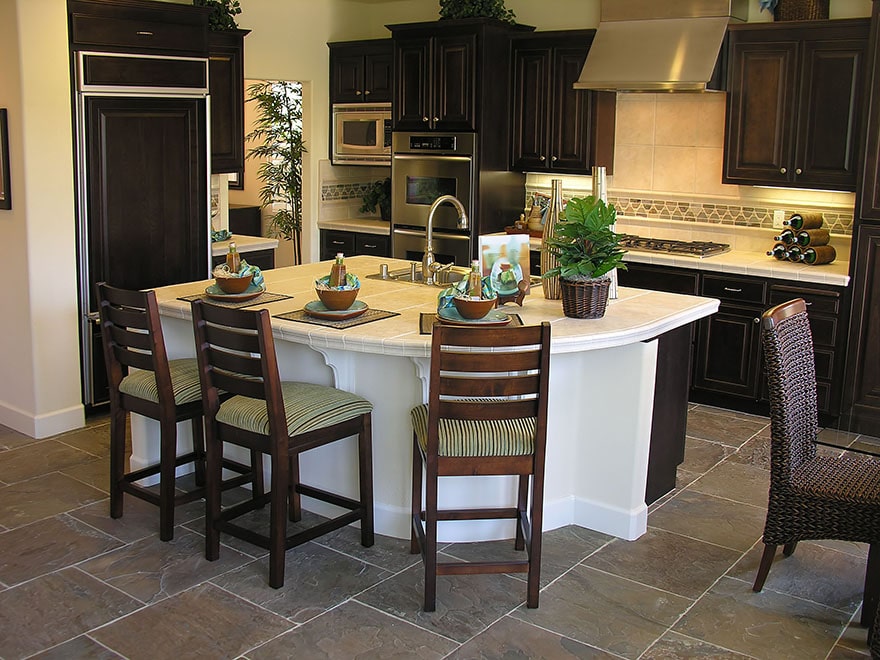 You may or may not be familiar with quartzite but it is a material that is well known for kitchen countertops. Most people know about marble and granite countertops, but not about quartzite. Here is everything you need to know about this material.
Pros Of Quartzite Countertops
Resistant To Heat
Quartzsite is different from quartz. While quartz is a man-made material, quartzite is a natural stone that is obtained from the ground through mining. It is a metamorphic rock, which is highly resistant to heat. Quartzite is one of the few natural stones, which is highly resistant to heat and it can do no damage to this stone. It is more resistant to heat than quartz and you don't need to use trivets to help put a barrier between the countertop and the hot pot or pan. Heated things also don't stain the countertop, which is a huge plus.
Very Durable
Quartzite is a great material to go for if you are looking for durability. It is a strong material that is resistant to impacts and force. It is also great if you tend to have a lot of flux of people coming in and out of the kitchen. It is one of the few countertops on which you can put your entire body weight as well. This countertop material also doesn't scratch or crack under pressure or high forces, so you can rest assured that quartzite will last you a long time and in a pristine condition.
Easy To Clean And Maintain
Quartzite is one of those natural stones which are surprisingly easy to clean. Unlike stones like granite and marble, which require so much work and cleaning, quartzite is a very low-maintenance material. It can be cleaned with a simple water and soap solution and it is also soundly resistant to chemical cleaners, although you should avoid them at all costs, because not only are they expensive and can add up in the end, but they are also not as effective as the simple things lying around your house, like detergent, washing liquid or even liquid soap.
Cons Of Quartzite Countertops
It Is Expensive
Natural stones are an expensive investment. A lot of people love the specifications of natural stones but they tend to be out of reach for most people, because of their price. Quartzite is no different. Quartzite countertops are highly expensive material and although they are a worthwhile investment, some people can't seem to justify the price of this stone for a kitchen countertop.
Quartzite ranges from $100 to $300 per foot, depending on where you get it from and what kind of fabrication it is in. Usually, slabs are a lot more expensive than thin tiles, but they are also long-lasting and more durable.
It Can Stain
Even though heat doesn't stain quartzite, it can be stained by normal food items. This is because quartzite is a natural stone and it is extremely porous. It is more porous than marble and granite, so it requires sealing. This is probably the most important type of maintenance that is inevitable in quartzite, but other than that, this stone doesn't require a lot of maintenance. Sealing can be done by using a varnish and it can be done by yourself, but it's better to get it done professionally because the results will be better and it will last a lot longer as compared to when you do it yourself.
The Colors Are Limited
This can be a deal-breaker for most people. Quartzite has amazing specifications and it is truly a wonderful material, but it doesn't have a lot of color options. It is the most limited natural stone when it comes to color and variety. There are tons of varieties of colors and patterns in different natural stones, which cost about a fraction of what quartzite would cost. This is one of the few major drawbacks because a variety of colors is a big priority for people buying countertop materials.
Conclusion
There you have it! Quartzite is a durable material that looks great in the kitchen. Now you can decide whether it's the perfect material for your kitchen or not. They are easily installed by granite installers Potomac.
Categories: Home Improvement